ESSENTIAL
TREMOR
Essential tremor, also referred to as familial, idiopathic, or benign tremor, causes uncontrollable shaking that can deeply impact a person's quality of life. When medications fail to offer relief, surgical intervention may be the next step. Focused ultrasound is a treatment option that provides tremor control without surgical incisions and with minimal complications.1
During the treatment, under MRI guidance, sound waves are precisely focused on the small spot in the brain considered to be responsible for causing tremors. Low energy is first applied, which allows the patient to inform the physician of any sensations they feel or other potential side effects. Then the physician can make individualized adjustments to the target. The energy is gradually increased to create a small therapeutic lesion.
For many patients, the result is immediate improvement of tremor in the treated hand. More than 3,500 patients (and growing everyday) have been treated to date around the world.
1 Pre-Market Approval (PMA) P150038
Find A Treatment Center for ET
Treatment and Benefits
Discover how Focused Ultrasound can improve hand tremor from Essential Tremor safely and effectively – without a scalpel, hospital stay, or lengthy recovery time.
Incisionless Surgery

Means little to no risk of infection.1

Improvement in Hand Tremor

Stably maintained at 3 years.1

Single Session Treatment

With minimal hospitalization.

Personalized Treatment

With sub-millimeter target movement.

Immediate Tremor Improvement

Post procedure for most patients.

Safe and Effective

With minimal side effects.1
Carol's Documentary
Carol Klein, a lifelong schoolteacher, came to a point in her life where she decided it was time to take control of her shaking hands. She was not going to let Essential Tremor stop her from enjoying life. View Insightec's documentary about Carol's incredible journey.
Testimonials may not be representative of all treatment outcomes.
Watch Here
How Is Essential Tremor treated?
From general information about Focused Ultrasound to what a typical treatment day looks like, we are here to help guide you on your journey to tremor treatment. Below we have answered the most frequently asked questions from our patient and caregiver community.
What is Focused Ultrasound?

How long has this Treatment been approved by the FDA?

Almost five years. The FDA approved the Exablate Neuro device for treating Essential Tremor with Focused Ultrasound at the end of 2016.

How many patients have been treated?

More than 3,500 Essential Tremor patients have been treated with Insightec's Focused Ultrasound.

Am I a Candidate for Focused Ultrasound?

Should I try medications first?

The first line of treatment for Essential Tremor is medications. If you have a confirmed diagnosis of essential tremor and prescribed medications (such as propranolol or primidone) have not provided satisfactory tremor improvement, you may be a candidate for Focused Ultrasound.

If I have tremor in both hands, do I need two treatments, one for each hand?

The Focused Ultrasound treatment is FDA approved for unilateral treatment – treating one side, usually the dominant hand.

Treatment Options for Essential Tremor

How Is Essential Tremor treated?

Mild essential tremor may not require treatment. However, if essential tremor interferes with your ability to function or if you are uncomfortable in social situations, there are treatments that may improve symptoms.
Treatments may include medications (as the first line of treatment), the Focused Ultrasound treatment or surgical options. Please keep in mind that only a physician can advise you on the risks, benefits, and alternatives for treating your condition.

What is Focused Ultrasound?

Focused Ultrasound is a treatment option where sound waves can be focused through the skull to target a very specific location deep within the brain without the need for incisions or holes in the skull. This is the same target used for years with other more invasive surgery, but now can be reached without incisions or anesthesia.

Focused Ultrasound (FUS) waves converge at a focal point to create a small lesion in the targeted area of the brain.

The MRI system is the eyes of the treatment, enabling the physician to identify and target the treatment area with high precision as well as monitor the temperature during treatment.

Risks associated with any thalamotomy, include transient and/or permanent sensory numbness, imbalance, and/or gait disturbance. These events are generally transient and mild or moderate in severity. Other risks and adverse events associated with the treatment include brief sonication-related pain, brief sonication-related dizziness, nausea and potential for deep vein thrombosis associated with lengthy time on the treatment bed.

Focused Ultrasound may be a treatment option for patients with medication-refractory essential tremor who are at least 22 years old.

What are some medications that can reduce the severity of the tremor in some patients?

Propranolol (Inderal®)is the only medication approved by the FDA for the treatment of essential tremor, but it is primarily used for treating high blood pressure

Primidone (Mysoline®) is an anti-seizure medicine

Anti-anxiety medications may be useful in patients who do not respond to other medications or who have associated anxiety

These medications can cause side effects, and you should ask your physician to learn more.

What is Deep Brain Stimulation (DBS) Surgery?

Today, the most common approach to treating essential tremor when medications no longer help is deep brain stimulation (DBS). This form of treatment consists of two staged surgeries to implant an electrode deep into the brain, tunnel the wires under the skin down the neck and implant a pulse generator below the skin near the collar bone. This treatment targets the same location as the Neuravive focused ultrasound treatment. DBS requires follow up throughout the patient's life for adjustment of stimulation and eventual replacement of generator(s) to replace batteries. As an invasive surgery to access the brain, DBS poses risks typically associated with surgery, such as infection and bleeding in the brain, and with implantation of chronic hardware in the body, such as infection and potential equipment malfunction.

What is Thalamotomy?

Conventional, surgical thalamotomy is an invasive procedure where the target ( the Vim of the thalamus) is surgically destroyed (ablated). Neurosurgeons use specialized probes inserted deep into the brain to precisely locate the treatment target. Like DBS surgery and the Neuravive procedure, the patient is usually awake, and the area on the scalp where the surgical tools are inserted is numbed with an anesthetic. Different methods can be used to kill the brain cells, including radio-frequency heating or cooling with a special probe. As an invasive surgery to access the brain, thalamotomies pose risks inherent in any surgery, such as infection and bleeding in the brain.

Additional information about these treatment options is available at https://www.essentialtremor.org/treatments/ and https://www.webmd.com/brain/essential-tremor-stereotactic-thalamotomy.

What is Stereotactic Radiosurgery?

Stereotactic radiosurgery emits powerful, highly accurate gamma radiation beams to target the cells of the ventral intermediate nucleus (VIM) in the thalamus in order to destroy overactive cells that cause tremor. Surrounding areas remain untouched as 192 beams of focused radiation are combined with a low dose of radiation.

During and After Treatment

Why do I have to be awake during the treatment?

Your feedback is necessary as you will be asked to do tasks such as drawing spirals. This is so the physician can evaluate the improvement of your tremor and identify any potential side effects that you may be experiencing during the treatment.

How long do I have to stay for the treatment during and after?

The average treatment time is 2.5 hours. The treatment is usually performed on an outpatient basis; however the treating physician will decide when you can return home.

Will my tremor return?

There is the possibility that your hand tremor may return months or even years after Focused Ultrasound treatment, or that the tremor may not improve at all. And while the treatment may improve your tremor, it's important to understand that it does not treat the underlying disease nor prevent its progression.

How soon can I return to work after treatment?

That depends on the type of work you do and how you feel. Please consult with your physician.

What side effects can I expect during the treatment?

You should have a detailed conversation with your physician regarding risks and benefits of treatment. Insightec-sponsored clinical studies have shown that the most common side effects are imbalance/gait disturbance, numbness/tingling, and headache/head pain. Additional infrequent events include dizziness, taste disturbance, slurred speech, fatigue, and vomiting.

What side effects can I expect after the treatment?

There is a small risk that you could develop temporary or permanent muscle weakness, unsteadiness when walking, sensory loss, or numbness or tingling in your fingers or elsewhere in your body.
Clinical Study
Overview
Insightec sponsored a clinical trial of the Exablate® Neuro platform to evaluate focused ultrasound to treat patients with medication-refractory Essential Tremor.
The 3-year data demonstrates a durable reduction in hand tremor and improvement in quality of life in subjects who received focused ultrasound for medication-refractory essential tremor.
Efficacy results
3 year follow up pivotal study of focused ultrasound for Essential Tremor¹ (See chart)
Percentages represent tremor improvement over baseline.
1 Pre-Market Approval (PMA) P150038
Safety results
Insightec-sponsored clinical studies have shown that the most common adverse events experienced after treatment included: imbalance/gait disturbance (26%), numbness/tingling (33%), and headache/head pain (51%). Most of these events were classified as mild or moderate, and 48% of all adverse events resolved on their own within 30 days.
Adverse events that persisted at 3 years were all mild or moderate and included: numbness/tingling (9%), imbalance (4%), unsteadiness (4%), gait disturbance (2%), and musculoskeletal weakness (2%). Additional infrequent events include dizziness, taste disturbance, slurred speech, fatigue and vomiting.
The number in parenthesis is the percentage of active subjects experiencing these adverse events.
For additional safety information, please refer to Pre-Market Approval (PMA) P150038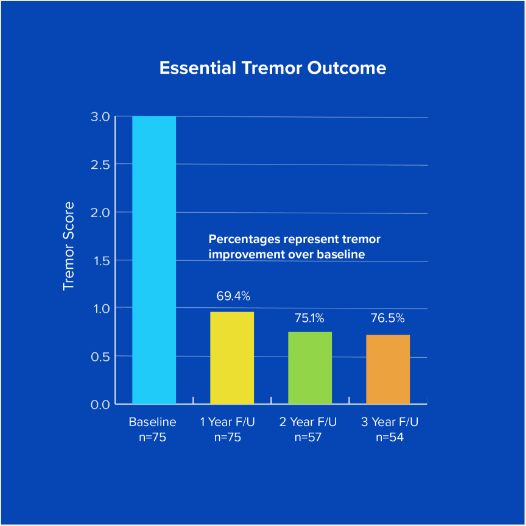 A Better Tomorrow
Starts Here
©2022 Insightec. All rights reserved.
The information on this website is not intended to be a substitute for professional medical advice. Always discuss treatment options and treatment outcomes with your physician or other qualified health provider.